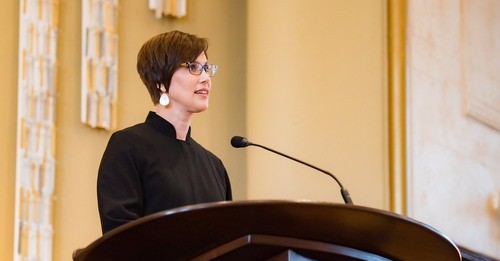 Sara Smalley, Minister
(507) 200-8384
revsara@uunorthfield.org
Click here to make an appointment
Greetings! I'm the Reverend Sara Smalley, she/her pronouns, and I've served as the minister of UUFN since 2021. My spiritual path is guided by wonder, joy, authenticity, and a fierce belief in the power of community: Life is hard, full stop. But we don't have to go it alone. The gift of a spiritual community such as UUFN is that we get to show up as our true selves -- with our grief and our doubts, our joys and our hopes -- and be welcomed as we are.

With this sort of spiritual home base, we can then move through our daily lives more aware of our connection to others and to the Holy, however we name it. I believe the point of being a part of a religious community isn't isolated to one hour on Sunday mornings; it's how it inspires us to act in our lives and in the world the rest of the week.

My sermons are often about both individual and collective healing and liberation -- the spiritual practices of amplifying equality, telling and hearing hard truths, and cultivating soul-deep joy. I speak the language of both atheism and theism, and consider my sermons to be an ongoing conversation with the congregation. Though my most-often quoted writers are probably Mary Oliver and adrienne maree brown, I have also been known to quote Ted Lasso and TikTok videos from time to time.
I warmly invite you to attend a Sunday service and see what we're about. Please don't hestiate to reach out if you have questions.

With care,
Sara
Jen Whitson, Administrator
(507) 200-8394 info@uunorthfield.org
Description text